Sub-soil investigations
Hardly any property transaction is carried out without environmental site investigation. Even when tenants of industrially used sites change an investigation for securing evidence might be appropriate.

When sites have been used for industrial purposes over a long time there is a major risk of contaminations with hazardous substances like POL and chemical solvents. Sites in the cities often show contaminated artificial fills (debris from old buildings, waste). Even if cleanup is not required this might cause considerable extra costs for future construction.

An orientating investigation detects these risks and provides reliability for planning. Quite often a historical review (Phase I) of an investigation already shows risky areas and leads to a well adapted investigation programme for soil sampling, soil gas sampling and groundwater sampling and testing (Phase II).

It might be advantageous to include geotechnical sampling and testing for planned construction .

Potential risks and costs for remediation and waste disposal for planned construction can then be estimated. If necessary, contaminated areas can be outlined in a second investigation. The confidential report thus serves as an important base for negotiations and for the final transaction decision.

Have a look at our facts on german legislation on contaminated sites

Beeing a small team of experts experienced in investigation and remediation of soil and groundwater for over 15 years we´ve earned our reputation working for many of the local and regional authorities in the Rhein-Main area and throughout Germany.

At least one of the senior consultants is participating in the fieldworks. Thus the investigation and sampling program can be readily adapted to the findings in the field if necessary.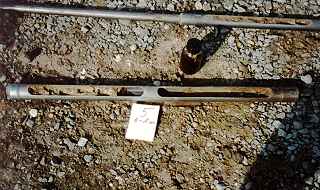 Window samplers with soil profile